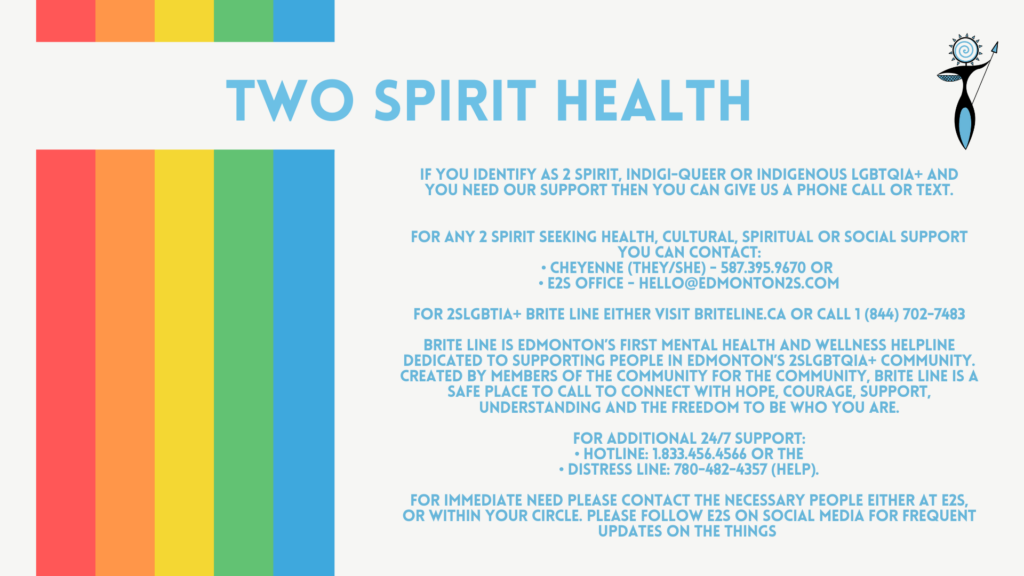 If you identify as 2 Spirit, Indigi-Queer or Indigenous LGBTQIA+ and you need our support then you can give us a phone call or text.
If you require immediate support or your matter is time-sensitive you could reach out to those at E2S who can help meet your needs by going to our Staff & Executive page
For any 2 Spirit seeking health, cultural, spiritual or social support you can contact:
• Cheyenne (they/she) - 587.395.9670 or
• E2S Office - hello@edmonton2s.com
For 2SLGBTIA+ Brite Line either visit briteline.ca or call 1 (844) 702-7483
Brite Line is Edmonton's first mental health and wellness helpline dedicated to supporting people in Edmonton's 2SLGBTQIA+ community. Created by members of the community for the community, Brite Line is a
safe place to call to connect with hope, courage, support, understanding and the freedom to be who you are.
For additional 24/7 support:
• Hotline: 1.833.456.4566 or the
• Distress Line: 780-482-4357 (HELP).
For immediate need please contact the necessary people either at E2S, or within your circle. Please follow E2S on social media to stay up to date on the many things going on around E2S.