E2S Sober Dance Party 2019
Inspired by the Fruit Loop Winter Ball collaboration in January 2019 we wanted to create a safe, sober, fun space within the local LGBTQ+ community.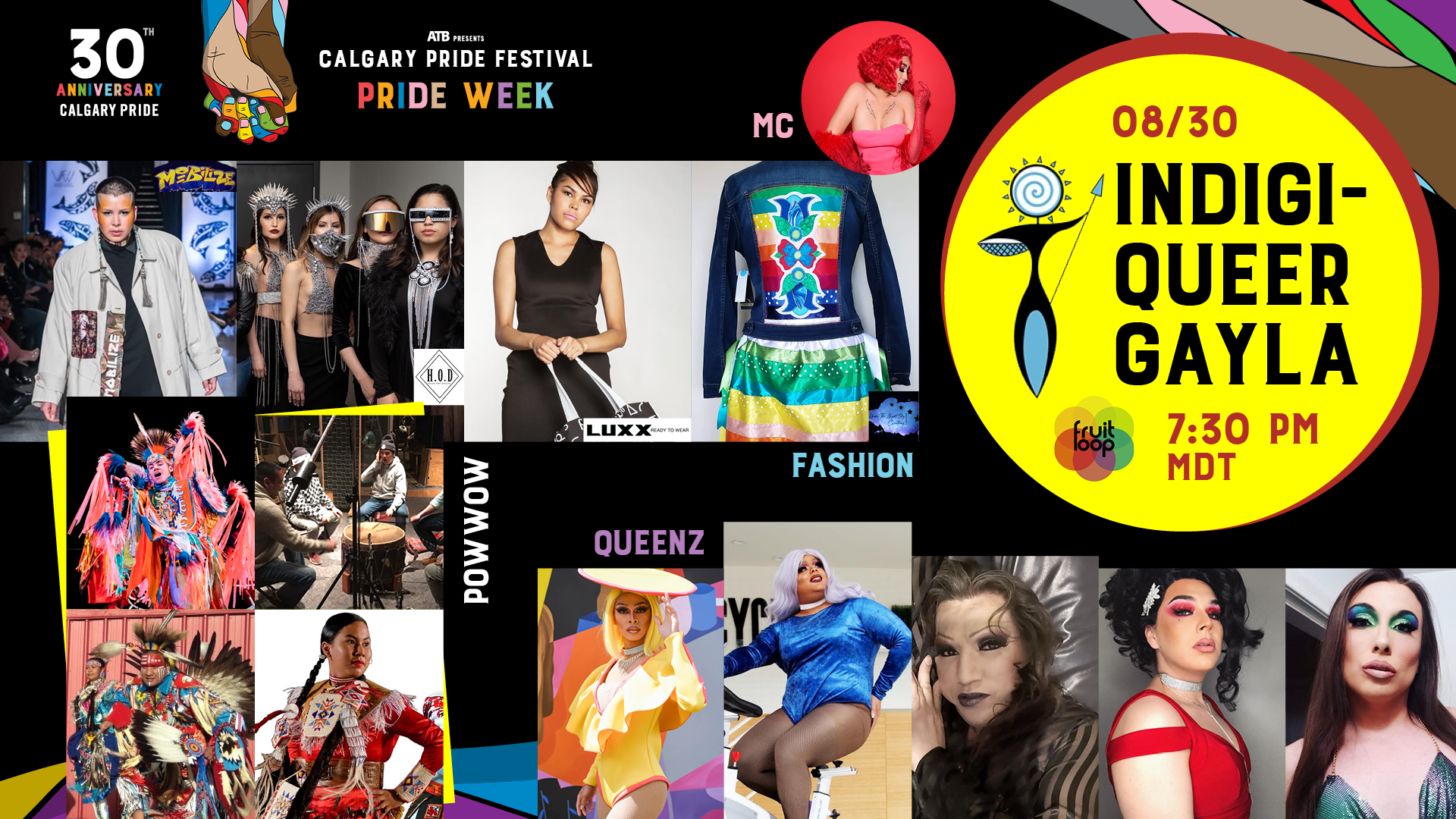 IndigiQueer Gayla 2020
Powwow 
The Running Thunder Dance (group) was founded by founder Adrian LaChance in 2010 it was an honour of his grandmother. Her maiden name was Running Thunder. She believed in education, staying away from drugs and alcohol and also helping and supporting one another in a good way. The group has travelled internationally Beijing, China, Mongolia, Taiwan, New Zealand, as well as Bucharest Romania sharing the First Nation culture of song and dance.
Queenz
Quanah Style is Canada's most infamous 2-spirit trans recording artist and house music diva. From coast to coast, there are few dance floors who haven't felt her presence. After a brilliant run of singles on Wet Trax, Quanah became a festival fixture, performing her anthemic hits with vogue dance crew House of La Douche. Music videos for songs such as her debut single 'Beat of My Heart' and the Storyhive award-recipient 'Give Me Life' showcased Quanah's undeniable star-quality. Her incredible stage presence, signature vocals, and inspirational story led her to become the subject of several documentaries produced by CBC Arts, World of Wonder Productions, APTN and Vice Magazine. She has also opened for Peaches, Bif Naked, Buffy Sainte-Marie, and more. Now she is ready to conquer 2020 with the release of her iconic eponymous debut album on Wet Trax.
Ladonna is a proud 2spirited Cree from Treaty 6;  Montreal Lake First Nation, Saskatewan. Ladonna has been following the Red Road since Oct 2012. She had been a Drag Queen for the past 30 years with numerous accolades from  pageants and charity work.  She presently has a career as a peer support worker for with Alberta Health Services. She is also a Zumba Instructor and proud father to her son whom he calls his little Cubcake.
This fierce queen has been strutting her stuff over the YEG drag scene for little over a year now. Desiré Devine is a 2S Métis fem queen who loves to turn the party and hair flip the house down.
Chelazon Leroux is a Dene First Nations, Two-Spirited Drag Queen. Coming from Northern Saskatchewan. She brings an edge of glamour, comedy and just being real deadly.
Edmonton's sexiest goddess of the stage, Artasia has been awing the crowd and having people questioning their sexuality time and time again. With her beauty and talent, this queen is here to stay and here to slay. Emerging as one of Edmonton's Party Queens with a thirst to flirt on stage, you best hold onto your man, because this queen loves to play. She is a rare gem with a style that exudes a sense of creative intimacy leaving her audience wanting more.
Honey Dijon is blazing through Edmonton's scene, always bringing the hype and entertainment to any stage she's on. With her mix of soul and dance moves Honey will leave you feeling sweet and wanting more.
Fashion
Helen Oro, Designer/Owner of Helen Oro Designs is from the Pelican Lake First Nation band. She is recognized as an international designer and entrepreneur making waves in the fashion industry.
Helen first got her taste of entrepreneurship in 2012 when she opened her first business Helen's Nail Artistry & Esthetics. This soon led to her grabbing the attention of Native Max magazine where she contributed many creative mani/makeup looks, interviews and allowed her to build her network. Soon after Helen started her designing business Helen Oro Designs. She promoted her statement Beadwork through various fashion weeks across the USA, Canada and overseas. Being the 1st First Nation from Canada to showcase in many countries such as Australia, New Zealand and various events like NBA AllStar Weekend Fashion Showcase in Los Angeles. While travelling to these prestigious events, Helen entered her 1st business competition and placed first allowing her to expand into clothing apparel and start her website. In 2016 ELLE Canada named her top 4 Sask designers to look out for. In 2017 FLARE added her to one of their biggest articles #HowIMadeIt 100 cool women with cool jobs. In 2018 Helen was added to the woman of the year gallery by Chatelaine Magazine for her work with indigenous fashion.
Helen has created once in a lifetime opportunities for many, helping to build portfolios, and teaching about model safety, and opening doors into bigger opportunities with travel. She wanted to do more than make beautiful pieces she wanted to build a brand that gives back and empowers.
Serving sophisticated, sleek and polished garments for the modern women and men of today. LUXX is owned and operated by creator Derek Jagodzinsky who has Indigenous heritage that he heavily draws creative inspiration from and from which he largely derives his values, shifting perceptions on how Aboriginal culture can be positively impacted and redefined through design in a modern way. LUXX designs have been featured in the Native Fashion Now exhibit that toured throughout the United States of America, including the Smithsonian's National Museum of the American Indian.
LUXX embraces the highest standards of quality and craftsmanship with the highest standard of creativity
Mobilize is storytelling through streetwear. Art to empower, educate, create identity, and to evolve perspective. I tell this story simply from my own perspective and pass teachings and knowledge through the clothing I create. I have always believed that clothing is much more; clothing is meant to be your voice when you feel silenced, to be an item that brings self-worth, and to act as an extension of your own story. As a father and a community member who has worked alongside our youth for most of my life, I feel a responsibility to create change for generations to come. We must tell our own stories! We must move forward in a good way with the land, the people, and our mother (the earth) being taken care of. We mobilize for the next generation, to empower the future ancestors, and to ensure that we create a conscious generation who will create the shift [that is] required.
My name is Deeanne Sutherland, I started Under_the_night_sky_creations in 2019 as a way to keep my connection to my late younger sister Dinnika Sutherland. She passed in 2017 to suicide and left so many of us with unanswered questions including her two daughters Taejence & Adrianna.
I found healing in creating. Placing my focus into something positive was essential to my own health and well being because of my four amazing children who needed me to be strong for them and sustain a healthy mind set despite all past trauma I have endured.
I started creating ribbon skirts first, then moved on to ribbon jackets. As more interest grew I found myself having to build a small social media platform to showcase my work. I have created so many pieces that have so much representation within the last year. It sometimes amazes me! For some they want to be identifiable amongst others to be wearing Indigenous clothing, others wear theirs proudly to honor our ancestors, loved ones that have gone before us to the spirit world and those who are still here with us. And some are made and given as gifts to others to show honor and gratitude. Each piece holds meaning for me the creator of these items and to the one it goes to. I put such my energy and creativity into them and I do believe my work shows all the efforts put into each one.
It has been such a great success so far in dedicating myself to my work and creating a name for myself. I do plan on expanding and becoming an inspiration and remodel to others especially our youth. Anything is achievable with the right mindset!!