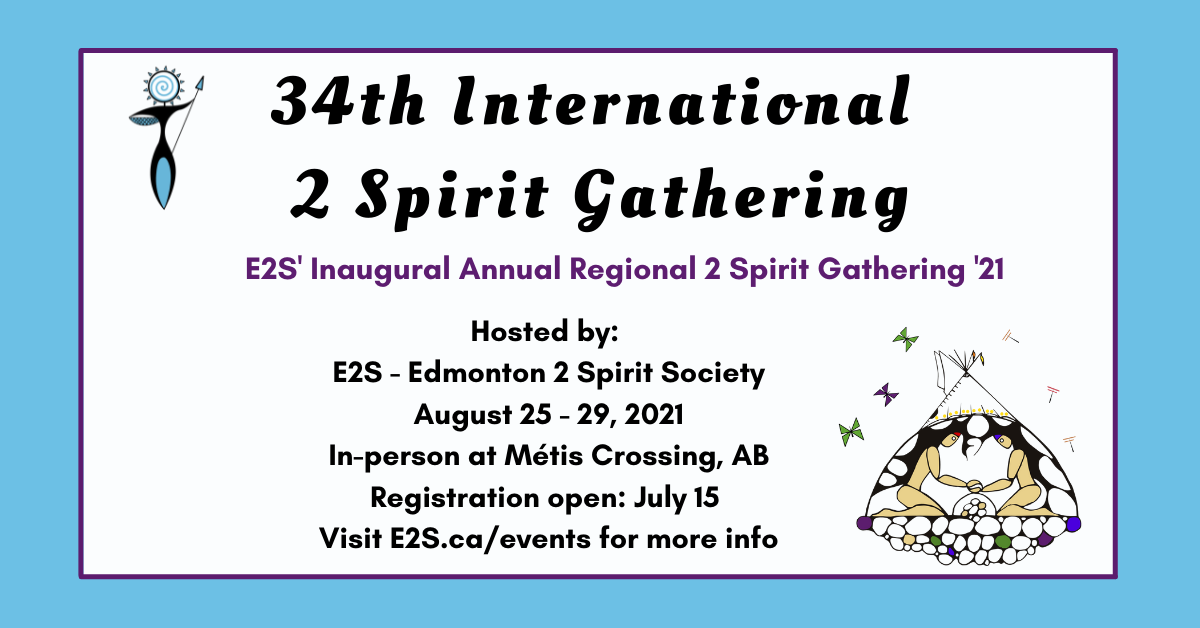 34th Annual International 2Spirit Gathering 2021
Dear community and membership,
We are honoured to announce registration is now open for the 34th Annual International 2 Spirit Gathering of 2021.
In 2020, E2S won the bid with the International Council of Two Spirit Societies (ICTSS) to host the first ever ITSG in the virtual world and soon, we will announce the release of archival videos from last year's gathering. This year however, things are looking better in terms of pandemic recovery in Alberta and the ICTSS is granting E2S permission to host the gathering again this year, but this time in-person at Métis Crossing in Smoky Lake, Alberta.
With ITSG21 we are welcoming approximately  90+ individuals, children, youth, and families of 2 Spirits. We also welcome delegates from government, organizations, and industry to join. We will also be offering some presentations live-streamed via Zoom as well and we suggest that non-2Spirit people register for virtual attendance.
Here is a LINK to the tentative agenda/workflow which is open to revision and additions as we start finalizing gathering details.
Some delegates will be able to receive travel (for Canadians), lodging, hospitality, workshops, ceremonies, gifts, activities, and games for all ages.
We invite you to have a look in total transparency at our funding request by following this LINK.
If you have any questions about ITSG21 please contact:
Richard Jenkins – Knowledge Carrier
ITSG21 Coordinator
Email: itsg@edmonton2s.com
• delegates lodging and travel logistics
• agenda and presenters coordination
• stakeholder and venue inquiries
Title Holders Coordination
• Boyd Whiskeyjack
Email: boyd@edmonton2s.com
LET US GATHER!!!
Edmonton 2 Spirit Society
Please like or follow us on social media: