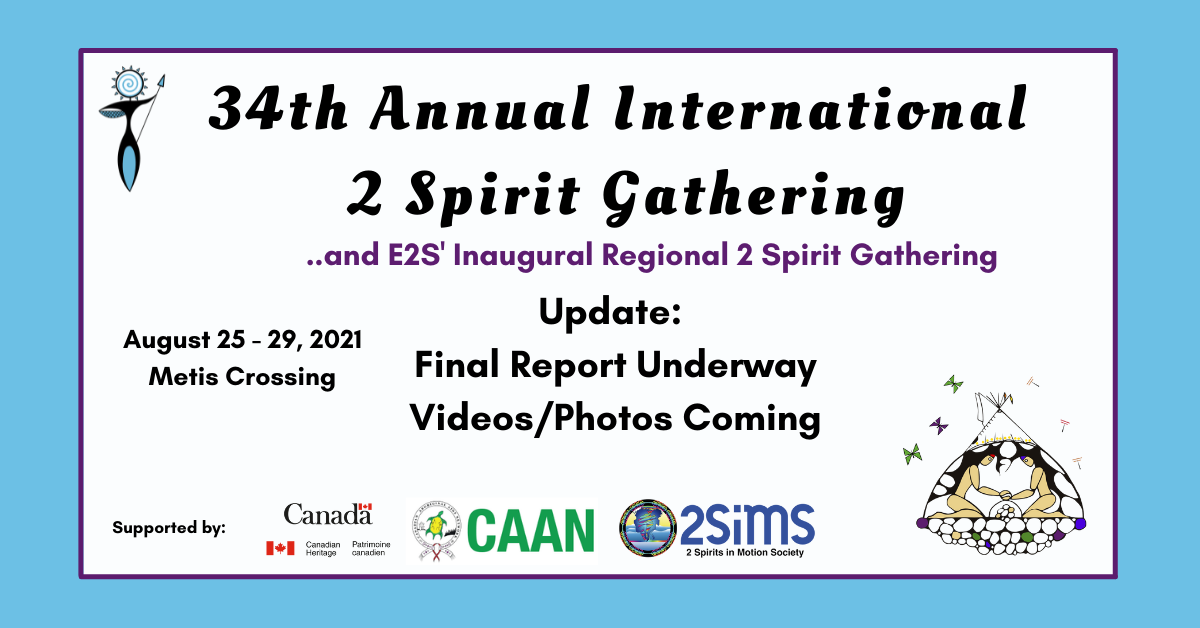 34th Annual International 2Spirit Gathering 2021
Dear community and membership,
We are happy to share that the 34th International 2 Spirit Gathering and E2S' inaugural Regional 2 Spirit Gathering were a success. There were over 70 people involved at the gathering. Due to the COVID-19 pandemic this gathering encountered barriers. However, we worked hard to navigate those barriers and we do recognize the impacts that some people were not able to attend the gathering.
In 2020, E2S won the bid with the International Council of Two Spirit Societies (ICTSS) to host the first ever ITSG in the virtual world and soon, we will announce the release of archival videos from last year's gathering. This year however, things were looking better in terms of pandemic recovery in Alberta and the ICTSS granted E2S permission to host the gathering again on August 25-29, 2021, but this time it was in-person at Métis Crossing in Smoky Lake, Alberta.
With ITSG21 we welcomed approximately 70+ individuals, children, youth, and families of 2 Spirits. We also welcomed delegates from government, organizations, and industry to join. We were also able to offer some aspects of the gathering live-streamed but due to technical/connectivity issues, this did not go as planned and we have learned ways of being better at this.
Please watch for updates and the final report and the video/s E2S is creating from the gathering.
If you have any questions about ITSG21 please contact:
E2S Executive Director
Email: executivedirector@edmonton2s.com
Title Holders Coordination
Boyd Whiskeyjack
Email: boyd@edmonton2s.com
Amiskwacîwâskahikan ᐊᒥᐢᑲᐧᒋᐋᐧᐢᑲᐦᐃᑲᐣ 2 Spirit Warrior

Cheyenne Mihko Kihêw
Email: communityliaison@edmotnon2s.com
hiyhiy / thank you / merci,
Edmonton 2 Spirit Society
---
Please like or follow us on social media: